Affordable Fall Fashion for Boys
As a frugal working mom of a young man, I have found it challenging to be able to find nice affordable clothes especially during the Fall season. The amount of mental energy it takes to go from store to store to shop and keep up on the latest trends when my time is limited has been extremely frustrating. The Fall season requires more clothes, layers, and richer color schemes that make many mothers miss the simple shorts and t-shirts that Summer requires.
---
Disclosure: If you make a purchase through the link below I'll receive a referral credit – but you will, too!
---
It wasn't until I found this great resource,  Kids on 45th ,this year where I was able to receive new and nearly-new kids' clothing delivered to my door for up to 90% off retail prices. It has been such a game changer to acquire inexpensive outfits in style without the additional burden of me going out and shopping as a working mom who is already tight on time. I had so much fun with the boxes I received thus far, and I wanted to share some of my son's favorite Fall looks to inspire the mom's out there who may be struggling with mixing and matching clothing items for the incoming season.
1. Layer Collars & Sweaters
Adding a collar shirt to a sweater for your little guy is such a "Boss Move". You will have your little guy looking like a little man walking into school. In this look, I paired a striped sweater with various deep blues with a denim collar shirt. I believe adding a different textured collar shirt to a sweater, elevates the look and adds versatility. Layering the different blues make a perfect picture day look!

2. Statement Shirts
My little guy is obsessed with wearing t-shirts year around which I am sure many boy-moms can relate.  T-shirts are still in style in the Fall especially when the colors are warm and dark. To take one of his favorite shirts to the next level, we paired a dark green T-Rex shirt with a letterman jacket and black pants. This statement shirt look is so cute for our little boys as they love their statement shirts with superheroes, dinosaurs, sharks, and all other crazy things!

3. Clean, Simple, Bold
My favorite color for my son to wear is black, only because the dirt stains don't show up as they do in lighter colors (Ha-ha). In this look, I matched a zip up sweater from my box with some simple black pants and some bold red sneakers. I love how clean and simple black can be especially in the fall season but adding a bold sneaker/shoe with the look can elevate it to become a show stopper! This had to be my son's favorite look as he requests this comfy sweater and red shoes pairing at least once a week.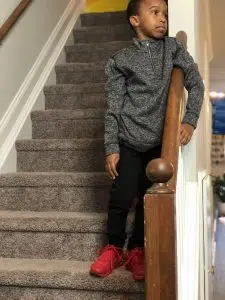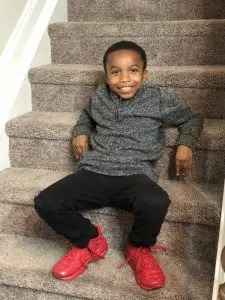 I do not consider myself a fashionista by any means, but I am a hard-working mother who wants my child to look their best when they leave the four walls that we call home. Receiving these subscription boxes of clothes has created so much more time in my schedule and decreased mental stress of constantly worrying about how to mix and match clothes. I hope these style tips help you to prepare for a fly and frugal Fall with your little boys and gives you more time for what matters most.
Try Kids on 45th  today and save $10 off your first order using this link!