"Mom look! They are brown like us!"
is what Romeo said when we first saw the trailer of the Black Panther movie. I looked at him with confusion because we see movies with "Brown" (black) people all of the time. The glow in his eyes when he watched the trailer made me feel like this meant something more to him than I could understand at the time. 
Now I know some people may not think this is a big deal but last year in July, my son Romeo graduated from pre-school and as he received his diploma, the director asked him what did he want to be when he grew up and in response he said a "Super Hero". Some of you may remember the blog I wrote telling him that he was my super hero here along with this video.
But, never would I have thought there was a doubt in his mind that he could actually become one. I never noticed that all of the superheroes that Romeo adored so much were white men which isn't a bad thing but I didn't think it would trigger something in his mind to think non-white superheroes don't exist.
After watching the Black Panther Movie, I have realized this movie is doing so much more than being just another marvel movie. This movie is empowering young boys and girls especially those of color and telling a story that would make one proud of their heritage and not ashamed. I could go on and on about why I think you should take your little ones to see the movie but I have listed 3 reasons below on why moms should take their children to see the Black Panther!
"Wait, he's a super hero!??" Yes Romeo he is, "He's brown like me!" ... I never understood the importance of having movie characters and cartoon characters that reflect all races and backgrounds of children. As a child, I grew up on Rugrats, All That, The Cosby Show, Living Single, Martin, and so on and I felt like those shows really showed people of color in a positive light. However, after watching the Ted Talk below, I quickly realized how different backgrounds not being represented in children's books can affect a child's confidence, goals, and entire outlook on life. Our lives, our cultures, are composed of many overlapping stories. Novelist Chimamanda Adichie tells the story of how she found her authentic cultural voice and warns that if we hear only a single story about another person or country, we risk a critical misunderstanding. She stated that " When I was seven, I wrote exactly the kinds of stories, I was reading. All of my characters were white and blue eyed, they played in the snow and ate apples.. Now, despite the fact that I lived in Nigeria and never been outside of Nigeria. We didn't have snow, and we ate mangoes... What this demonstrates is . how impressionable and vulnerable we are in the face of a story, particularly as children... I had become convinced that books by their very nature had to have foreigners in them and had to be about things with which I couldn't identify." Black Panther is helping empower little boys and girls of color to grow up and be whatever they want to be by identifying with them. 
2. A Black Super Hero that is not a sidekick!
Now I know some people may jump down my throat because Blade was definitely a lead super hero that was the definition of a BAD ASS! However, Black panther tells a different story. Blade had no community, no family, and an all white cast. No shade to Blade but Black Panther changes the game when it comes to black superhero movies. If all your child sees is the black/brown boy being the side kick or a loner surrounded by people who are not of color for support, that could really lead to some self hate issues and all they will ever think that you can become is the side kick. Black Panther is is one of the first movies of its kind with a predominantly black cast ( that doesn't involve slavery) plus a black director, Ryan Coogler ( Director of Creed & Fruitvale Station). This movie embraces culture with intelligence, humor, style, and action! This movie is not a game! I love movies that show black history, (although I tend to leave angry after the movies about slavery and civil rights because I get so pissed about the treatment of our people during the movie... PTSD) but its about time we see a full cast of black people that doesn't have such a hardship! I left this movie feeling happy and empowered! I felt like I could go out and conquer. Romeo even came home and started building with his action figures and said he was trying to make his own empire. Now how bomb is that!?
3. Black Women were praised!
Sorry Not Sorry! The way this movie represented black woman is absolutely amazing. Black women were the warriors, the intelligence, the glue that held things together, and most importantly seen as drop dead gorgeous. For too long have we seen movies where the black woman with corse hair is just the "pretty" girl's best friend. There were several instances in the movie where they described a black woman's beauty as breathtaking. They even showed men bowing to them because of their strength , beauty, and passion. This is not something to be taken lightly. Think about how black women are represented in movie, stories, news, social media, etc... It can be sad to think about at times. Black Panther made me proud to be a woman of color and I know it made Romeo proud to be raised by one. He constantly pointed to the women warriors and said "That one is you, Mommy!" and then he continued to say that he was the black panther. The fact that he could see his mother in the movie and people who look like her be seen as beautiful, intelligent, strong, and passionate brought tears to my eyes.
As I said before, I can go on all day about why I think this movie is awesome but you have to see it for yourself. So all moms, of all colors, shapes, sizes, and backgrounds, take your little ones to see this movie because I believe it's making huge strides in changing what we see our tomorrow as, today!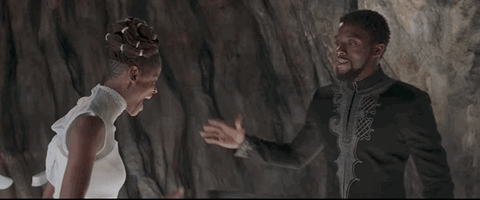 Tags: